A couple of days ago we made it across the border from Cambodia to Laos.
We stamped out of Cambodia and were left with a bad taste in our mouth when the customs guy asked for a $2.80 bribe per person for the stamp in the passport…
'$2.80 for a stamp?'
'Erh…. Do we get a receipt?'
'No, no receipt'
'Well no receipt, no money we responded…'
He huffed and puffed a bit then thrust back our passports… Not a nice way to leave Cambodia where the people have been nothing but lovely.
So then we enter Laos. After paying $37 for a visa another immigration official asks for $2 for 'overtime' pay before stamping us in.
'Overtime?!'  (at 3:30pm on a Friday)
'Yes yes stamp $2 per person'
'Ok… Do we get a receipt?'
'No, no receipt'
'Well, no receipt no money'
This time our passports were not thrust back at us but rather put to the side while passports for a bus load of people (who had arrived after us) were processed instead.
We weren't quite sure what to do next, but took it as a positive sign that we weren't sent back to Cambodia. Dean made some pretend phone calls to the tourist police which didn't seem to bother them, so then we decided to play some cards and wait it out.
5 mins later we were being yelled at by the same guy…
'No! No casino!' Shouted the rubber stamp guy
'Have you finished with our passports?'
'No casino!'
'We're not gambling!' we respond.
My hands were a bit shaky at this stage but we continued to play.
We had decided to give it about an hour of waiting before we would succumb to the corruption. We played 2 rounds of Scala Quaranta (the game we often play during long waits on buses and ferries) before Dean was called over and handed the passports stamped and ready to go – small victories!
I know it sounds stupid that we are arguing about $2, but it's the principal of the matter. Corruption is one of the main obstacles facing developing countries, and the guys working in these places make far more money than most of the rest of the country.  If they get $2 from every person who crossed the border, that little office is pocketing hundreds of dollars every day, for a country with an average wage of something like $5/day it's insane.  There's also an element of pride I guess, just because we're tourists it doesn't mean we're stupid!  Overtime fees… at least invent a reasoable story!!
From there we spent a couple of nights in Four Thousand Islands – a group of islands scattered along the Mekong about 25km from the border.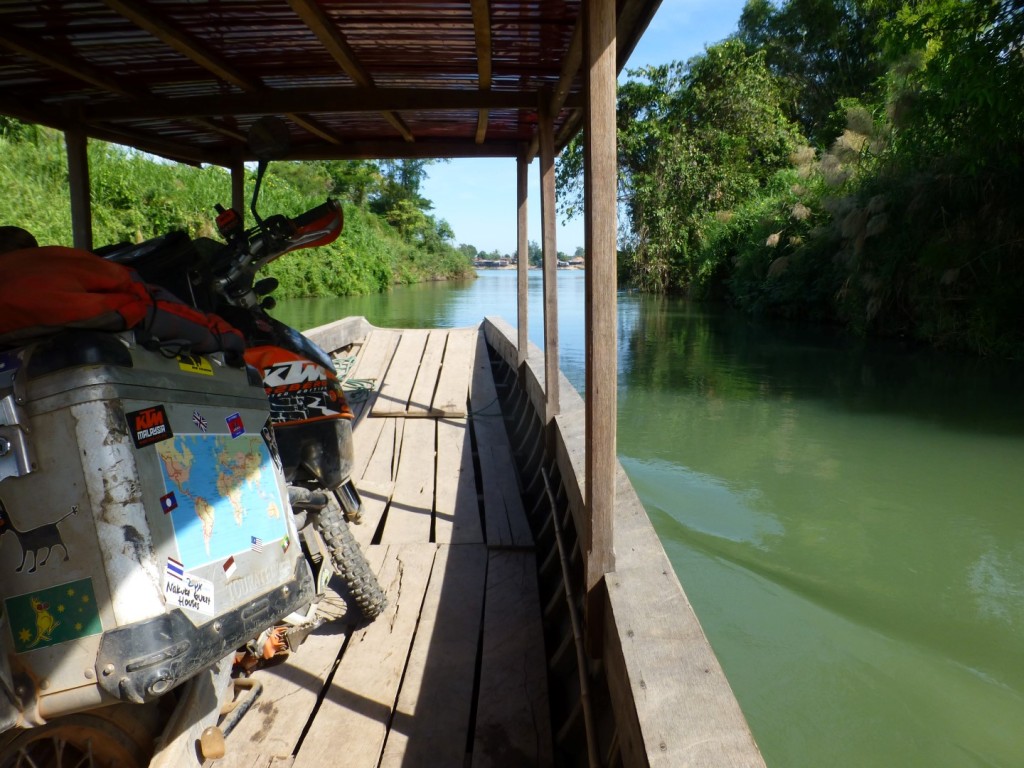 It was very relaxing with not much to do except hang out on a hammock (and play with the six puppies that were living where we were staying :))))))))) I was in heaven!
We're now riding a two day loop from Pakse towards the Vietnamese border and back.
More later xoxoL